Destination Asia is a comprehensive destination management company (DMC) specializing in East and Southern Asia based operations. As pioneers in the industry, we continually set the standard for experiential travel and personalized service, helping our clients gain exponential growth within their market and positively develop their business.
The Destination Asia Group was formed in 1996 by a group of experienced travel executives and managers who saw a niche market opportunity for a travel company. By creating a business owned by its employees we could provide travel services solely responsive to the needs of the client and not the whims of any international corporate conglomerate. Our customer focused operations were valued by clients who could rely on our expert knowledge and dedication to create memorable experiences.
Destination Asia Thailand and Destination Asia Vietnam were the first units of the Destination Asia Group to be formed. From these two initial successes, Destination Asia China, Japan, Hong Kong, Cambodia, Indonesia, Burma, Singapore, Malaysia and Laos have evolved, further strengthening our association within the region. With individual employee shareholders and management teams in every operating country, each Destination Asia office is responsible for its own creative product development, delivery and statutory requirements.
Our extensive international sales office network spans four continents, including; USA & Canada; United Kingdom & Ireland; Germany, Austria & Switzerland; South Africa; Australia and New Zealand; Scandinavia, Belgium and the Netherlands; and Spain & Latin America. Our ISOs source new customers, analyze our competitors in their overseas markets and constantly conduct PR activities for our 11 country companies.
Our company philosophy is simple. We will:
Provide on-site services that are the very best available in the market in each destination and will never compromise on service standards;
Deliver a level of service that exceeds our clients' expectations;
Ensure the company's products and services conserve the integrity of the environment, respect the cultural heritage of the community and wherever possible utilize locally-sourced components, thereby contributing to the community-at-large.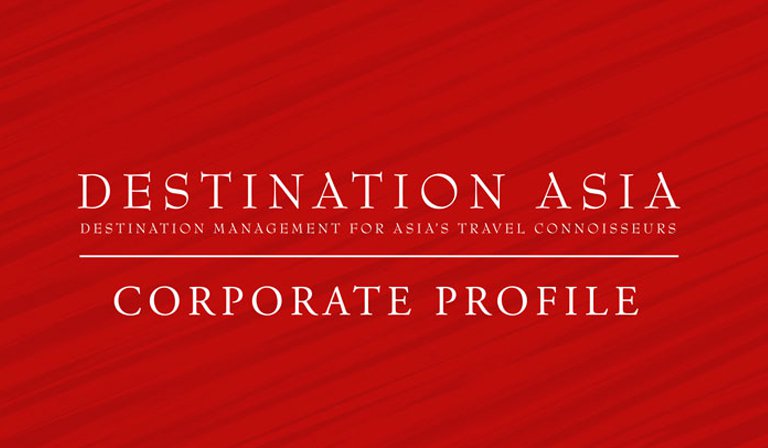 The Destination Asia Corporate Profile provides our clients with an overview of the company structure and information on the visionary executives who lead Destination Asia, who deliver the absolute pinnacle of service to our international clientele. Here you will find background information on the Destination Asia Group, including its history and current day services. We also introduce our International Sales Offices and those who are responsible for delivering the services on the ground.
You can download a copy of our Corporate Profile here.